Translations - اَلْعَرَبِيَّةُ - Español
For individuals struggling with negative, depressive thoughts or self-harm we recommend you reach out to NYC Well, Suicide prevention 1-888-692-9355, or 911 for emergency assistance.

Due to the pandemic, the Changing Futures team is available for online and phone therapy sessions for individuals seeking assistance. These sessions are for individuals who are struggling with current traumatic events and survivors of past trauma.
Currently, the program offers with enrolled participants:
Individual, family and group sessions
A support group for female survivors of Domestic Violence (age 18 and above)
Services for any community member:
A general support group for the community is on Wednesdays from 3 - 4 pm where participants will be encouraged to speak, share and given healthy coping activities. You can join via Hangouts: https://meet.google.com/pvr-dibu-jvv or phone: +1 980-999-2721‬ PIN: ‪888 338 298‬#
Any individual must register with KHCC CFP first. To access the above services please contact your provider or the community coordinator Sagrario Garcia on (718) 884-0700 ext. 193 and leave a message or at sgarcia@khcc-nyc.org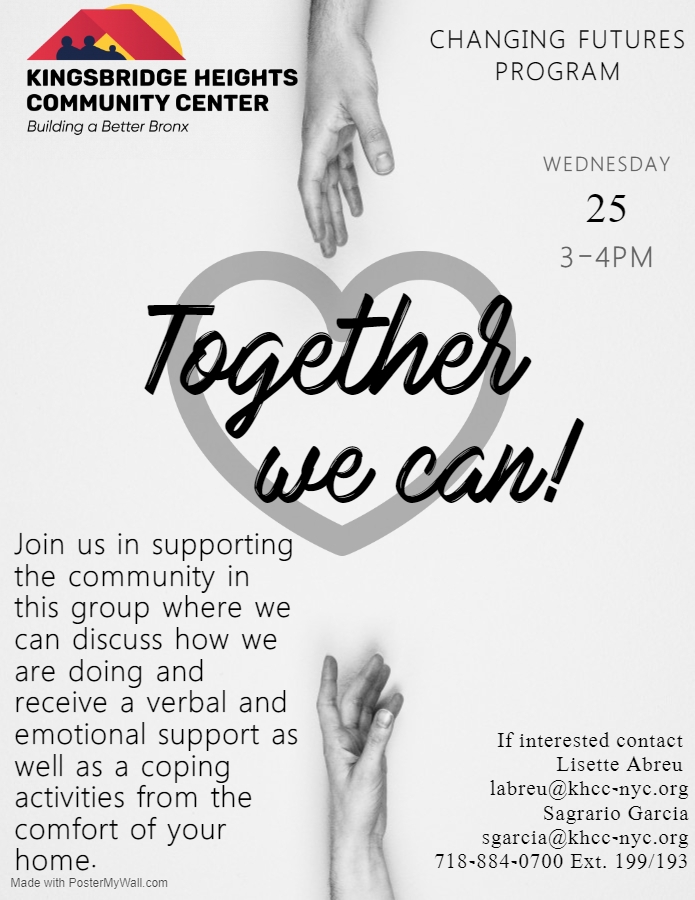 KHCC's Enough is Enough (EIE) program is continuing to offer and provide services remotely. These services include planning meetings and need assessments with key stakeholders at our partner campuses, advocacy services for student survivors provided via telehealth, and remote prevention efforts such as social media campaigns, video conference based discussions and trainings, and awareness events through livestreaming platforms.
Additionally, the EIE Coordinator is collaborating with other EIE providers in the city to help compile resources and services that continue to be available to student survivors (and survivors more broadly) and problem-solve around the unique challenges to safety planning with survivors in quarantine.
Please contact Taylan Stulting for more information - tstulting@khcc-nyc.org
No in-person services will be provided until further notice.
El equipo Changing Futures está disponible para sesiones de terapia en línea para personas actualmente inscritas en el programa.
También proporcionarán servicios terapéuticos a los nuevos participantes que buscan asistencia.
Para reservar una sesión en línea, comuníquese con su proveedor o el coordinador de la comunidad Sagrario García al (718) 884-0700 ext. 193 y dejar un mensaje o en sgarcia@khcc-nyc.org
Changing Futures también proporcionará un grupo de apoyo para la comunidad donde se animará a los participantes a hablar, compartir y recibir actividades de afrontamiento saludables.
Puedes unirte a través de Hangouts: https://meet.google.com/pvr-dibu-jvv o por teléfono: +1980-999-2721 PIN: 888 338 298 #
Para obtener más información, comuníquese con Sagrario García al (718) 884-0700 ext. 193 y dejar un mensaje o en sgarcia@khcc-nyc.org
El programa Enough is Enough (EIE) de KHCC continúa ofreciendo y brindando servicios de forma remota. Estos servicios incluyen reuniones de planificación y evaluaciones de necesidades con partes interesadas clave en nuestros campus asociados, servicios de defensa para estudiantes sobrevivientes proporcionados a través de telesalud y esfuerzos de prevención remota, como campañas en redes sociales, debates y capacitaciones basadas en videoconferencias y eventos de sensibilización a través de plataformas de transmisión en vivo.
Además, el Coordinador de EIE está colaborando con otros proveedores de EIE en la ciudad para ayudar a recopilar recursos y servicios que continúan disponibles para los estudiantes sobrevivientes (y los sobrevivientes en general) y resolver problemas en torno a los desafíos únicos para la planificación de la seguridad con los sobrevivientes en cuarentena.