Food Pantry
Price: Free Starts: Mar 17, 2020, Ends: Jan 01, 2021
Our Food Pantry is open and available to provide service to Bronx residents 5 days a week. Pantry staff distribute non-perishable food items and hot food to residents. During the Covid-19 pandemic, doors open Monday to Friday from 12 pm for seniors and 1 pm - 2:30 pm for all other community members.
KHCConnect is coordinating food and other emergency supplies, including gift cards immediate non-food needs. For phone/video support, please call 718-884-0700 x129 and leave a voicemail or email khcconnect@khcc-nyc.org.
Note: Food Pantry and KHCConnect staff are bilingual and can provide support to Spanish speakers.
Interested in Donating?
Here are a few ways to give:
Financial Gift: to give to the food pantry and help secure items and family boxes, donate HERE.
Give via Amazon Smile: If you online shop, Amazon donates to KHCC when you shop at Amazon Smile
Donate Non-Perishable Items: if you are interested in giving canned and/or dry goods, please contact Will Littleton at wlittleton@khcc-nyc.org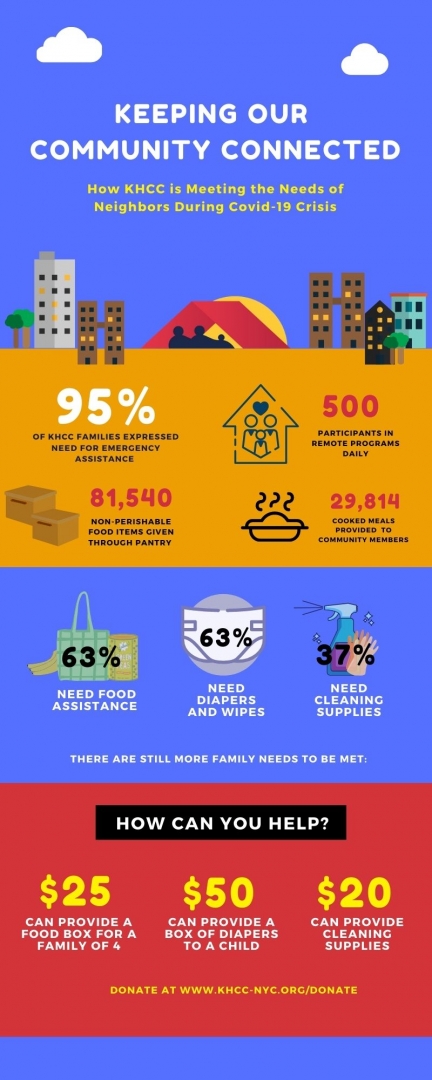 See how our Food Pantry has responded to increased need in the community during the coronavirus pandemic: