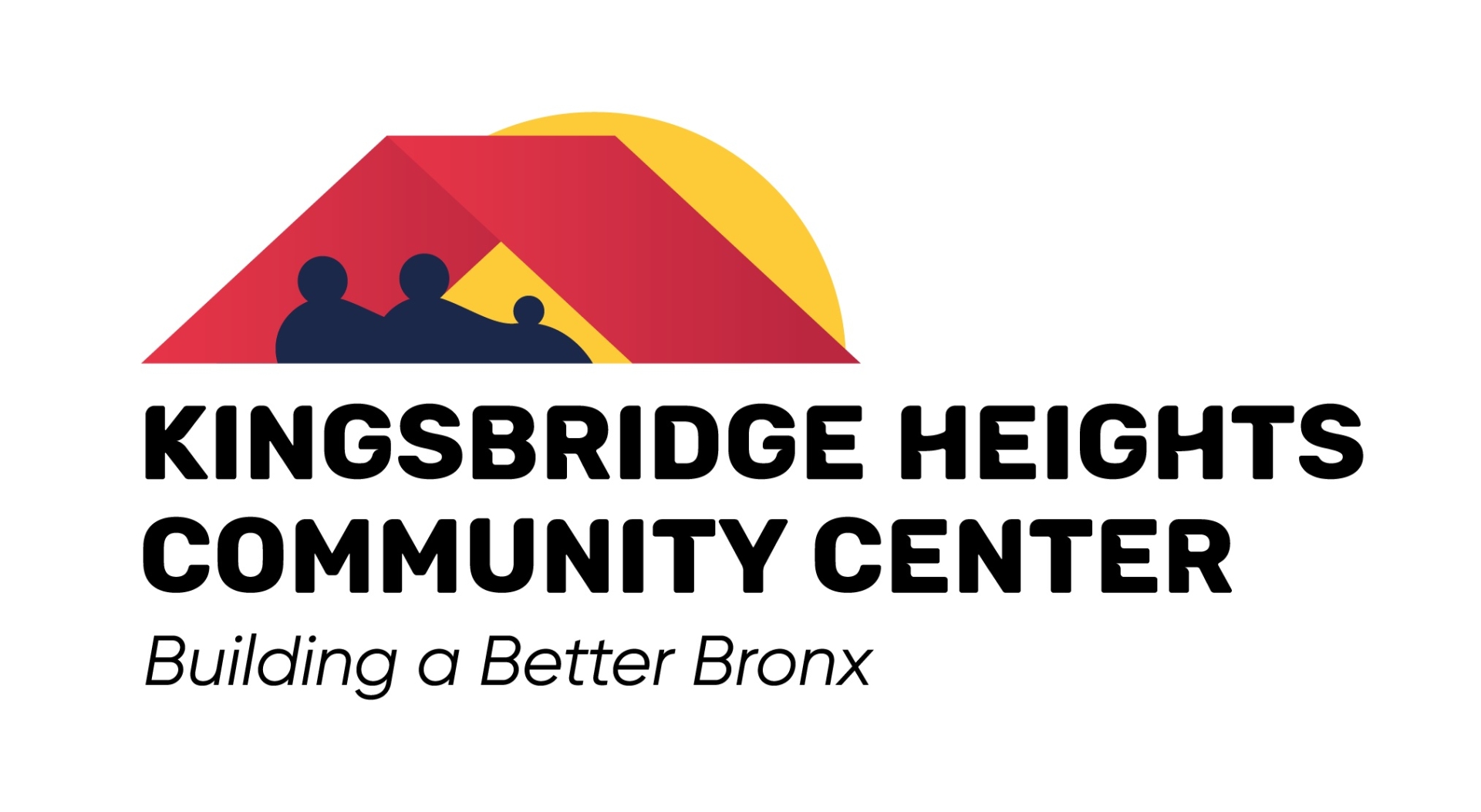 FOR IMMEDIATE RELEASE
September 20, 2022
Contact: Margaret Della
mdella@khcc-nyc.org
KINGSBRIDGE HEIGHTS COMMUNITY CENTER AWARDED $500,000 BY
NY COMMUNITY TRUST FOR A NEW INITIATIVE
BRONX, NY – Kingsbridge Heights Community Center (KHCC) and Lehman College, along with seven other settlement houses, welcome the "Future of Social Work: The Settlement House Network and Multilingual Communities" initiative. The New York Community Trust awarded the program $500,000 over two years to engage a team of multilingual MSW level interns in expanding the range of new or unique mental health supports offered to participants in their home language within our collection of United Neighborhood House (UNH) member agencies.
This innovative program will work in partnership between KHCC and Lehman College, Arab-American Family Support Center, Bronx Works, Church Avenue Merchant Block Association (CAMBA), Hudson Guild, New Settlement, Sunnyside Services, and Educational Alliance. Bilingual service providers/social workers rarely have access to trainings or resources specifically focused on supporting their non-English client work but are expected to provide quality client care regardless.
"KHCC is incredibly proud to address this need by leading the development and implementation of an initiative focused on supporting our bilingual social workers in strengthening their skill sets and expanding their network while simultaneously addressing the growing need for mental health services for non-English speaking communities (or immigrant communities) in NYC and the Bronx," Alexandra Martinez, KHCC Adult Services Director stated.
Evan Senreich, Ph.D., Professor of Social Work, Lehman College stated "Lehman College is a Federally Designated Hispanic-Serving Institution. In regard to this, the Department of Social Work has been dedicated to educating professionals who speak Spanish to work with Spanish-speaking clients in urban areas, providing social work classes in dual-language English-Spanish classes. This grant meaningfully enhances this effort by providing additional training for social work students to work with this population in New York City in eight agency settings. We are very proud to be part of this endeavor."
"Amid the landscape of heightened discrimination, hate crimes, and isolation, immigrant and refugee communities are seeking out trusted community-based mental health providers now more than ever. The Arab-American Family Support Center has carried out a 350% increase in mental health counseling amid the pandemic, and our waitlist continues to grow as our communities navigate extremely limited options for services in languages such as Arabic, Bengali, Urdu, Hindi, Punjabi, and more. The Future of Social Work: The Settlement House Network and Multilingual Communities initiative offers an innovative approach to addressing this critical issue and is an important step in our collective effort to transform mental health care in New York City and beyond " stated Arab-American Family Support Center Rawaa Nancy Albilal, President & CEO.
"BronxWorks is grateful to be part of this initiative to increase access to mental health services in non-English speaking communities and to offer additional avenues of support for multilingual individuals and families," says BronxWorks Executive Director Eileen Torres. "Supporting the professional development of bilingual social work interns will be especially impactful in our diverse Bronx community. We thank KHCC for developing this opportunity and including us in its implementation."
"CAMBA has proudly served New Yorkers in need for 45 years, and our social workers
have always been an integral part of our daily work and mission," said Claire Harding
Keefe, CAMBA's Executive Vice President of Homeless and Family Support Services. "In order to best reach those who need our help, it's imperative that our social workers speak their language. We are proud to join this partnership to further enhance the services we provide to our multilingual clients."
"Hudson Guild is thrilled to be a part of this project which will enable us to strengthen our support for families representing a particularly underserved community." Wilson Cano, Deputy Executive Director.
"As individuals in the Bronx continue to face health inequities, providing access to mental health resources for our community members is a priority for New Settlement," said Rigaud Noel, executive director of New Settlement. "We are grateful to New York Community Trust for recognizing this critical need, and we are proud to be a part of this initiative that will eliminate barriers to vital mental health services and ensure overall wellness in the Bronx."
"Sunnyside Community Services looks forward to this partnership that will allow us to
elevate and support multilingual social worker students. SCS prides itself on providing
culturally sensitive services to older adults in Queens, so they can age in their homes
and communities. This initiative will further enhance how we engage with our clients in
their language to address their diverse needs better. We thank the New York
Community Trust for its investment in the social work field" stated Sunnyside Community Services, Assistant Division Director for Older Adult services,
Lauren Wade, LMSW.
The Educational Alliance is pleased to be in partnership with KHCC and Lehman College in support of the 'Future of Social Work: The Settlement House Network and Multilingual Communities initiative. Through this collaboration, we will not only expand our reach and build our capacity to offer critical support to communities of color, but we will also be able to develop clinicians of color. Creating opportunities for growth for all is in keeping with the mission and values of the Educational Alliance's Family Resource Center" stated Jasmine Palmer, LCSW, Senior Director, Social Work Services, Education Alliance.
This grant will directly impact the lives of NYC children, youth, and adults who have experienced anxiety, depression, child sexual abuse, domestic violence, and other early traumas.
–
ABOUT KINGSBRIDGE HEIGHTS COMMUNITY CENTER
KHCC provides resources to empower Bronx residents from cradle to career to advance education and well-being for a vibrant community. We achieve this in an environment that fosters academic milestones, literacy, mental health support, nutrition, technology, and the arts. To learn more about KHCC, visit our website: www.khcc-nyc.org.
ABOUT NEW YORK COMMUNITY TRUST
A public charity, The Trust is a grantmaking foundation dedicated to improving the lives of residents of New York City and its suburbs. We bring together individuals, families, foundations, and businesses to build a better community and support nonprofits that make a difference. We apply knowledge, creativity, and resources to the most challenging issues in an effort to ensure meaningful opportunities and a better quality of life for all New Yorkers, today and tomorrow. Read more on this funding opportunity here.
ABOUT ARAB-AMERICAN FAMILY SUPPORT CENTER
The Arab-American Family Support Center (AAFSC) is a non-profit, non-sectarian organization established in 1994 to provide culturally and linguistically competent, trauma-informed social services to low-income immigrant and refugee communities. Our mission is to empower immigrants and refugees with the tools they need to acclimate successfully to the world around them and become active participants in their communities. While our doors are open to all, with 36 languages represented across staff, AAFSC has developed cultural and linguistic expertise serving members of NYC's Arab, Middle Eastern, Muslim, and South Asian (AMEMSA) immigrant and refugee communities. 
ABOUT BRONX WORKS
Founded in 1972, the BronxWorks' mission is to help individuals and families improve their economic and social well-being. From toddlers to seniors, BronxWorks feed, shelter, teach and support our neighbors to build a stronger community. Guided by the highest ethical and professional standards, our efforts will make a difference in the lives of 65,000 persons in 2021. We operated over 100 programs from about 50 locations.
ABOUT CAMBA
CAMBA is one of Brooklyn's largest community-based organizations, with a budget of nearly $200 million and a diverse and dedicated staff of more than 1,600 employees. Although the Church Avenue Merchant Block Association (CAMBA) was founded in 1977 as a merchants' block association, the agency has grown in direct response to the needs of the Brooklyn community and beyond. Today, CAMBA provides services to 70,000 individuals and families annually through over 170 programs in an integrated set of six program areas: Economic Development, Education and Youth Development, Family Support, Health, Housing, and Legal Services.
ABOUT HUDSON GUILD
Hudson Guild provides comprehensive bedrock social services and education programs to support more than 14,000 low-income and working poor individuals in Chelsea and on the West Side of Manhattan, many living in public and supportive housing. In 1895, Hudson Guild was founded as a settlement house to serve the needs of the growing immigrant population in the then industrial neighborhood of Chelsea. Today, Hudson Guild is an anchor institution in a vibrant multicultural community, which has expanded to 17 service locations in Chelsea, Hell's Kitchen, and Lincoln Square. Our mission, however, remains the same: to fight poverty and build community.
ABOUT LEHMAN COLLEGE
Lehman College is the City University of New York's only four-year college in the Bronx, serving the borough and surrounding region as an intellectual, economic, and cultural center. Lehman provides undergraduate and graduate studies in the liberal arts and sciences and professional education within a dynamic research environment. It Is a
Federally Designated Hispanic Serving Institution with the only Master's in Social
Work (MSW) program in the Bronx. The Department of Social Work is the only one in New York City that offers dual-language English-Spanish classes to its MSW and bachelor's level social work students to enhance future Spanish-speaking social workers' ability to work with Spanish-speaking clients.
ABOUT NEW SETTLEMENT
Rooted in the Bronx, New Settlement stands with community members to break systemic barriers, advance justice, promote leadership, and strengthen neighborhoods. We firmly believe that the South Bronx is a place of unlimited potential in New Settlement. By ensuring agency around education, employment, housing, wellness, and creative expression, we help cultivate an equitable society where individuals and families have the power to use their voices to create the change they wish to see. Our programs and services are embedded in these streets; we are a trusted resource for the families of our community. In addition, most New Settlement staff are from the community; many grew up in our programs.
ABOUT SUNNYSIDE COMMUNITY SERVICES
Sunnyside Community Services (SCS) is a community-based not-for-profit agency centered on the belief that every person deserves meaningful support to achieve their aspirations – especially struggling families and individuals. We have continuously responded to community needs since 1974 by delivering high-quality services.
ABOUT EDUCATIONAL ALLIANCE
Educational Alliance's mission is to unite and partner with diverse communities in Lower Manhattan, offering individuals and families high-quality, multi-generational programs and services that enhance their well-being and socioeconomic opportunities. Annually, we provide services to 50,000 people in the Manhattan communities of the Lower East Side, Chinatown, and East Village, including early childhood education, employment services, food distribution, arts and culture activities, substance abuse treatment and prevention, health and wellness activities, and older adult services. In addition, through our network of community centers, our programs respond to and amplify the voices in our diverse communities.
###