The National Sexual Violence Resource Center (NSVRC) announced that the theme of Sexual Assault Awareness Month 2023 is "Drawing Connections: Prevention Demands Equity." This year the campaign wants, "all individuals, communities, organizations, and institutions to change ourselves and the systems surrounding us to build racial equity and respect." KHCC staff and programs are driving this mission forward with their initiatives to raise awareness and advocacy efforts. During April the Changing Futures Program (CFP), KHCConnect, and the Teen Center worked together to maximize the amount of participants reached.
On Thursday, April 20th, 2023, KHCC staff and participants joined the Bronx Denim Day March. This year's theme, Take Space Make Space, was focused on intentionally making space for survivors of sexual violence in work and social settings. The March began outside of the courthouse on 161st Street with individuals chanting phrases such as "No, means no," "My body, my choice," and others that encouraged and supported those affected by Sexual Assault in the community. After the march, there was an event at the Bronx Borough President's Office with tabling, speakers, food, and performances.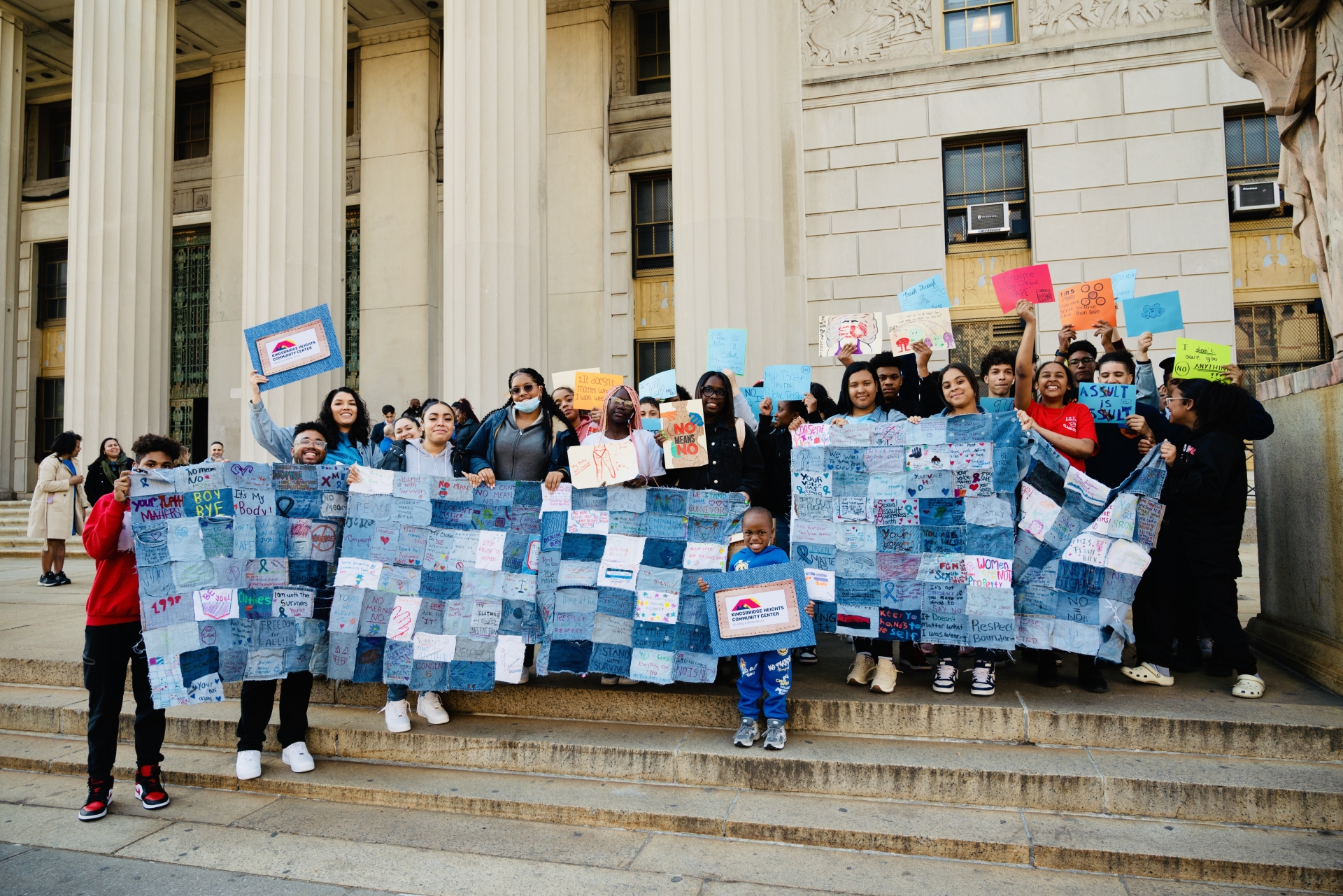 Denim Day, "a call to action to live fully in our identities without having to make ourselves smaller and create a world in which everyone has the right to safety and expression," was filled with many opportunities to learn and interact with others on gender-based discrimination and violence. KHCC and other organizations provided information and resources to Bronx residents about the issue. There was a sense of acceptance and belonging that was emulated by all involved in the event. As the event urged community members to take space and create space surrounding these issues, the event itself was showing people how to do so in a supportive and engaging way.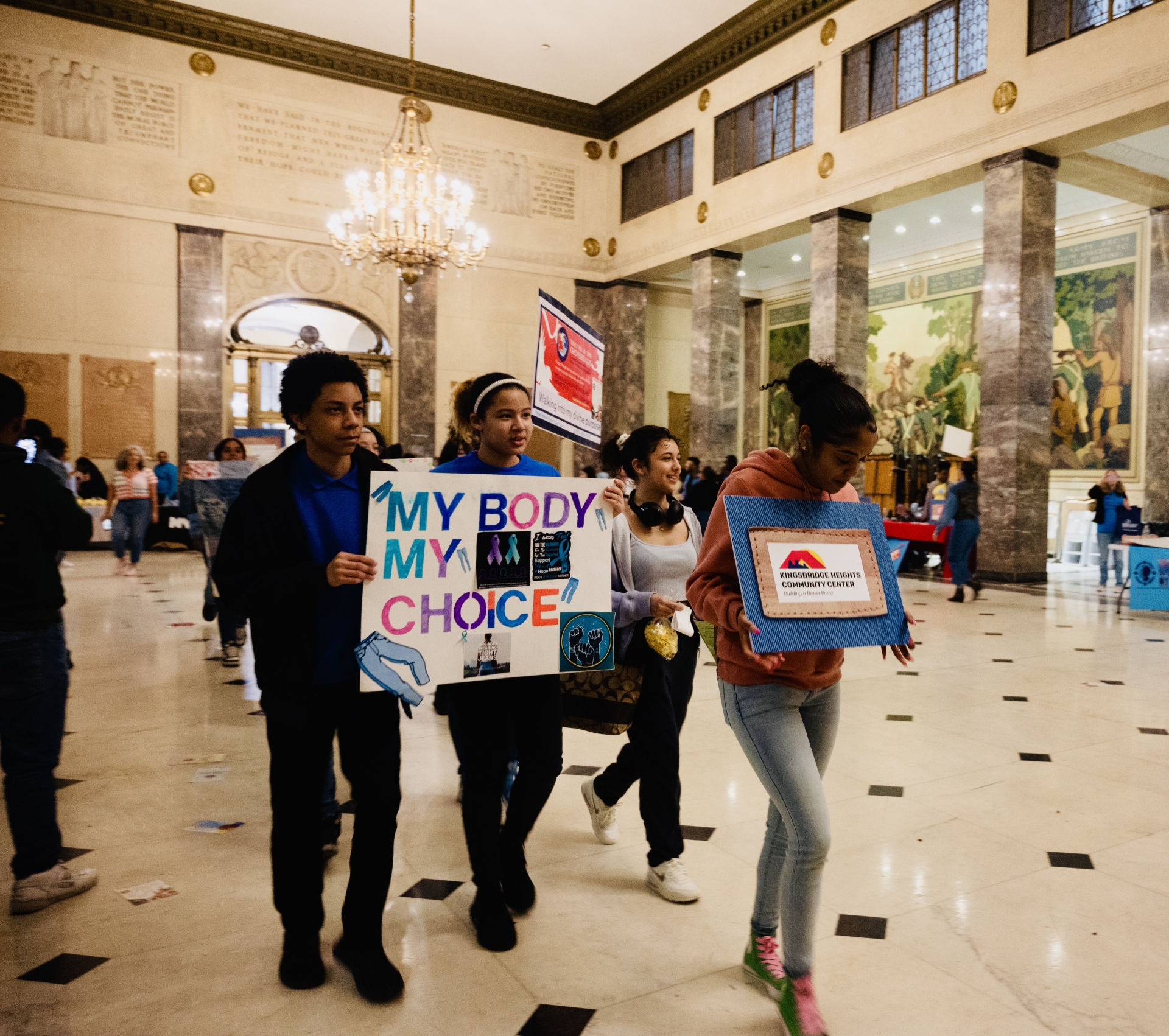 The event that followed the March was composed of performances by the youth related to the theme. There was a Hip Hop dance performance by Elite Dance Group, a Youth Fashion Show and Singing performance by NOMW, and spoken word poetry by KHCC. Maria Ramirez, a Youth Leadership Council member at the Main site, stated feeling good about the march because she was able to "hear other women's stories and their journey of moving through their experience." She was also the individual who performed two Spanish self-written poetry pieces. The first was about things that commonly happen to women and the second was about the importance of crying and truly letting yourself feel your emotions. Her performance was inspirational and touching to both the youth and adults, who all applauded her courage to stand up and speak out about her experiences that many at the event could relate to.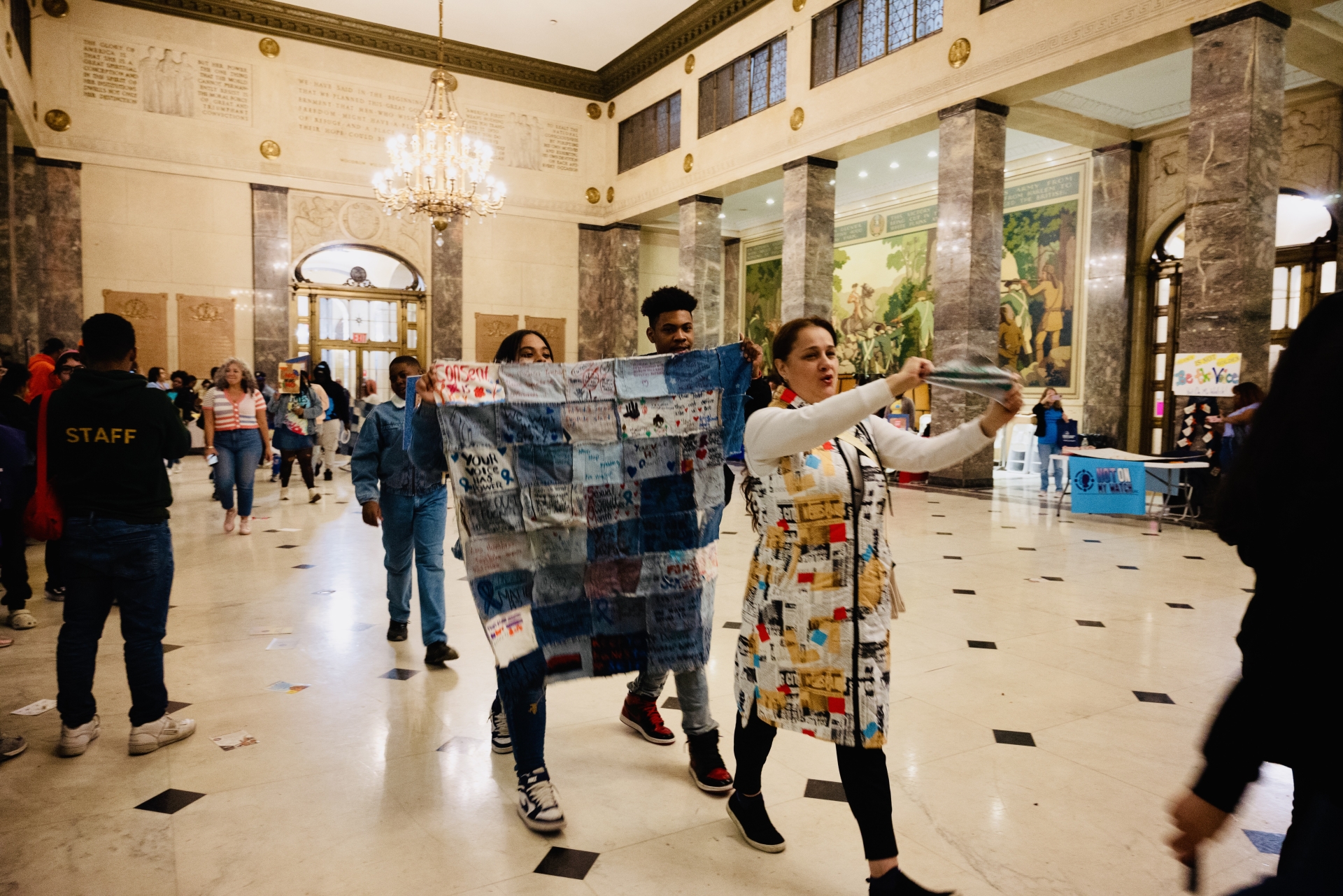 The most exciting part of the evening was KHCC's youth's spontaneous involvement in the fashion show. Many community members and organizers of the event were fascinated with our quilts composed of small denim squares decorated by each KHCC program with words and phrases in support of those who've experienced gender-based violence. This event was a success in allowing the youth to reflect on their experiences related to Sexual Assault through the creative arts. "This was a great way for the community to get together and raise awareness for an important cause," said Tracy Contreras, a Youth Leadership Council member at ISLA. KHCC hopes to continue to partner with organizations that host events that are reflective of the issues that are relevant and impactful to all Bronx residents. We look forward to next year's Denim Day March and our participant's continued interest in speaking on and about Taking Space and Making Space in their community!

The Changing Futures Program (CFP), "is the only program in the Bronx to offer completely free long-term treatment services in a nurturing and supportive environment, that asks no questions about immigration status!" The program is focused on prevention, education, and treatment to support those affected/who know someone affected by and those not yet affected by traumatic experiences. CFP does a lot of outreach work within the community whether with individuals or other CBOs in the area who may or may not provide similar services. Most recently representatives tabled at Lehman College's Spring Health Fair and SAAM Resources Fair to provide college students with educational materials and resources surrounding sexual health and gender-based violence.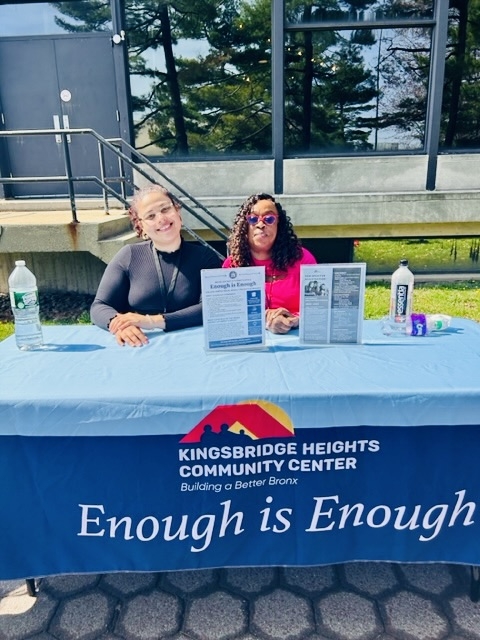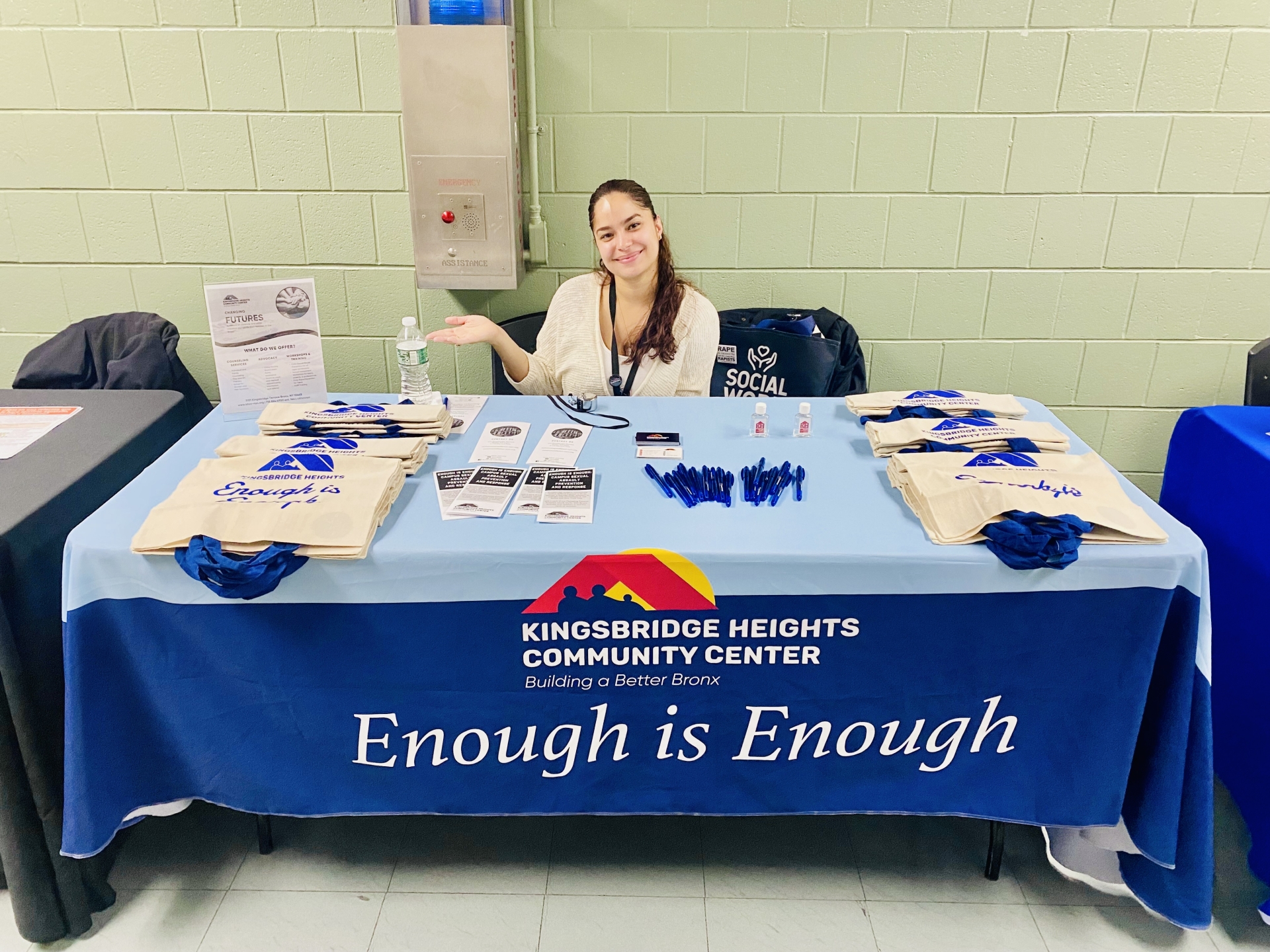 Some of the other initiatives within this department that align with the goals of Sexual Assault Awareness Month are;
Good Touch / Bad Touch: Educational workshops for children to gain bodily autonomy. The differences between touches are explored and discussed so that they can more easily identify differences between wanted and unwanted touches.
Legal clinic with Sanctuary for families: A legal clinic catered to individuals who have experienced gender-based violence and/or have immigration needs. These sessions have room for flexibility and in some cases, the organization can refer participants to lawyers on a pro bono basis.
Healing Rocks: The KHCC official SAAM wrap-up event on May 5th where all present staff members will wear teal shirts and decorate healing rocks with inspirational words or phrases. The finished artworks will be placed in KHCC's entryway so that people can see them as they attend their programs or pass by the Main site location.
Rape Crisis Hotline: KHCC is a certified Rape Crisis Program approved by the Department of Health. The staff can provide short-term support as well as referrals to Safe Horizon advocates at the Special Victims Division in the Bronx. Services can include filing a police report, receiving a hospital exam, receiving testing for possible pregnancy, finding resources and services available to you, and more.
Contact us at (718) 884-0700 x193 (Monday-Friday, 9am-5pm)
When asked "What motivates you to continue doing this work?" Catherine Mykytiuk, CFP Program Director, said, "The staff because even in challenging situations they think of their client's needs first and are motivated to find solutions and improve their lives and the clients because they show up every day regardless of life's challenges, which motivates me."
The Teen Center MSW Interns have been facilitating the Teen Health Project curriculum in Guys/Girls groups since January. THP "seeks to increase abstinence and condom use among adolescents at high risk for HIV by increasing participants' knowledge of HIV/AIDS and promoting HIV risk-reduction as a peer, family, and community norm." In these sessions participants explore issues surrounding gender/sexuality and consent that all lead to a culminating project; Sex Family Feud. On February 28th, The participants hosted this event to test each other's knowledge surrounding the topics they were exposed to in the group. The losing team is usually tasked with doing an activity that is engaging, thoughtful, and most of all educational. The Girls won last year and decided that the Boys had to do Drag as a 'punishment.' This year's winners, the girls again, decided that the guys would perform the Vagina Monologues as characters from the Netflix show Big Mouth.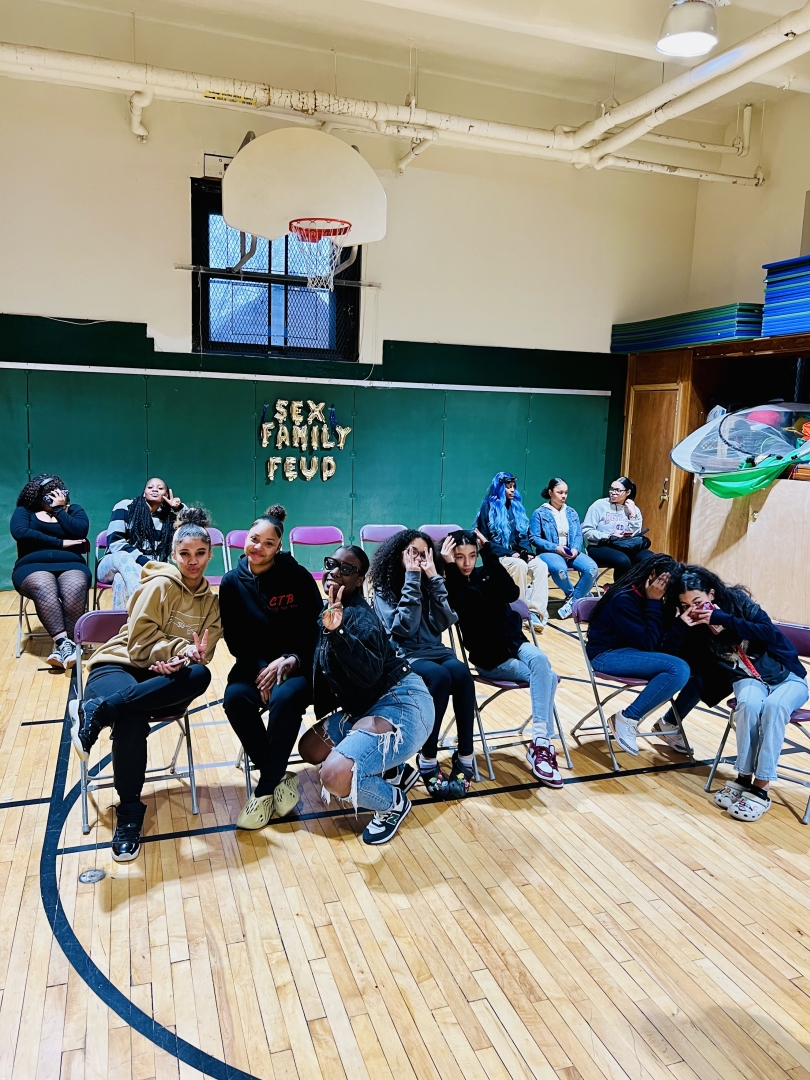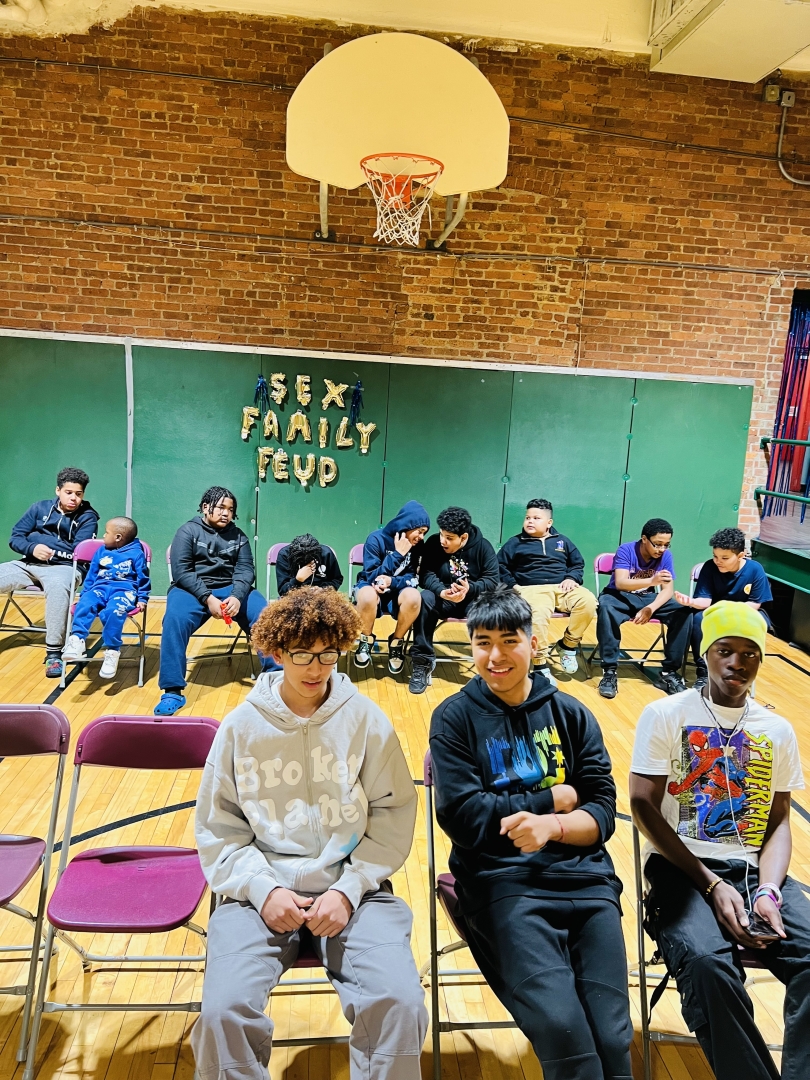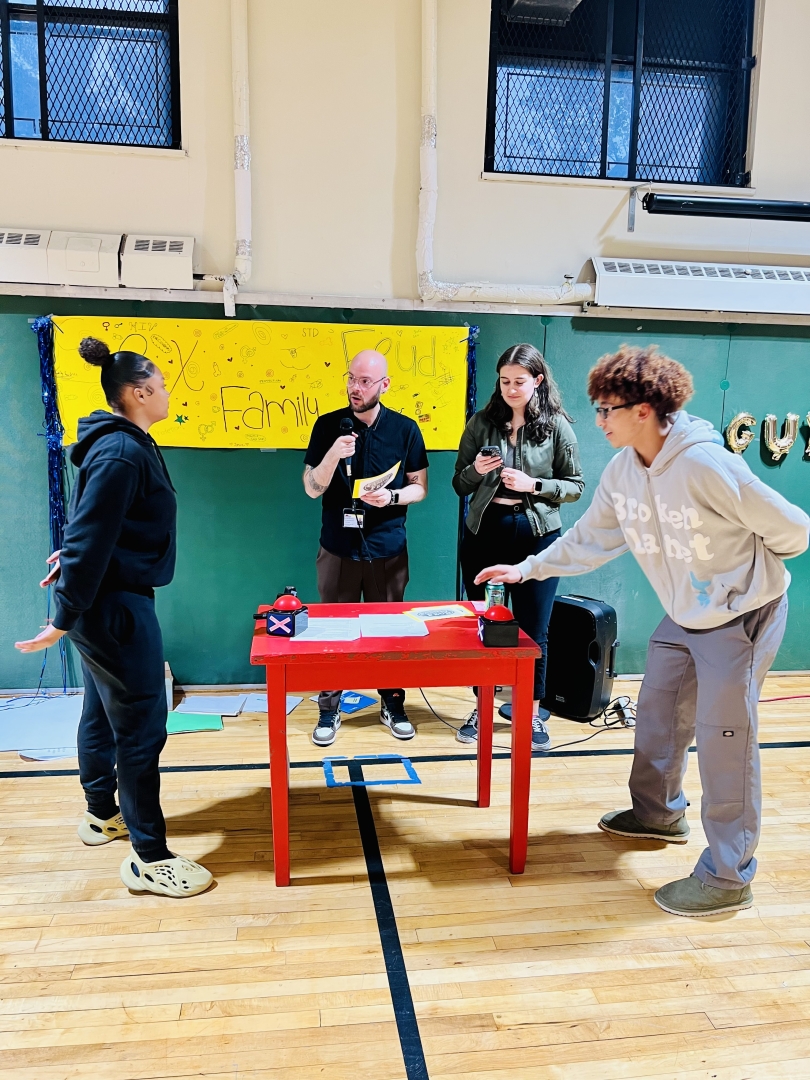 KHCC continues to do work that is needed in the community in a way that challenges participants' values and beliefs while promoting discussions. As other opportunities to raise awareness and advocate for Bronx residents become available, participants are gaining tools and resources to become independent drivers of change through fruitful conversations surrounding social issues.