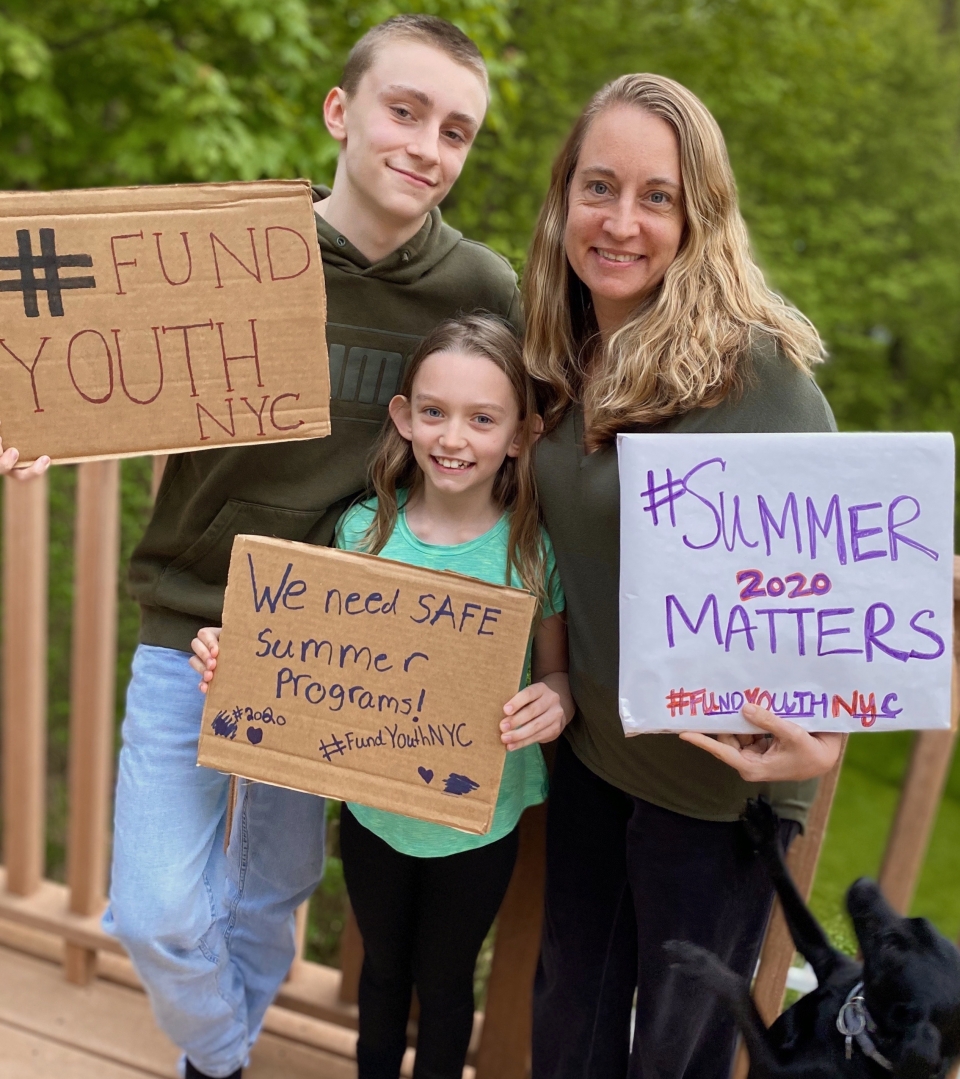 September 2021 will mark 20 years at KHCC for Sadie Mahoney. As the Chief Officer of Youth, Adult and Family Services, she has seen the agency in various seasons of its "life" as a hub for families and community members in The Bronx. She's been an integral part of the agency's growth and success.
For Women's History month, we asked Sadie, along with other women at KHCC, to share her story in her words. Here's some of Sadie's KHCC story:
Where are you from originally?
Cleveland, Ohio, but my grandparents are from second generation immigrant families that originated primarily from Germany, England, Greece, and Ireland.
If you could only use two words to describe yourself, what words would you use?
Passionate: I have always aimed to tackle social justice issues with a fierce focus at the neighborhood level with folks who can be their own change agents.
Committed: I made a promise to myself and the very first young people that I worked with at KHCC nearly 20 years ago to "stay the course." The regulars in our Teen Center were sick of people coming and going and did not trust that anyone would stick around. Although I have taken on many varied roles in those 20 years, my goal has always been to remain consistent for youth and families who rely on the center for support.
How long have you been at KHCC?
I started as a staff member at KHCC in September 2001, so close to 20 years ago. I thought I might lose the opportunity because my husband, and I got stuck in Greece on our honeymoon due to the September 11 attack on the World Trade Center.
How did you find out about KHCC?
I was an intern at KHCC during graduate school at Columbia University's School of Social Work (CSSW). I fell in love with community-based social work, and I remained in touch with many of the program directors who had mentored me. They enticed me back (knowing my affinity for youth work) by continually reminding me that there was no one overseeing the Teen Center for over a year.
What do you believe your impact has been at KHCC?
I hope that my biggest impact has been on young people who did not always have the strongest network of caring adults to rely upon. I have tried to stabilize funding, strong teams, and important resources/opportunities such that the youth and family programs remain intact despite the ebb and flow of government support. I also pride myself on encouraging young professionals in their quest to develop, especially in the social service sector (both those that grew up at KHCC, and social work interns/new staff who find their home here).
To support our work and programs, please consider donating to KHCC.